Dr. Christiane Heiser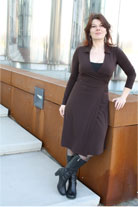 Since the year 2008, this art and cultural historian has, on her own, conceived and organized exhibitions, conferences and projects for museums and academic institutions in Germany and The Netherlands.
Christiane Heiser has over the past 20 years specialized in the visual and applied arts of 'classical' Modernism and architecture from 1880 to 1940. She follows a cultural-historical approach and works in an interdisciplinary and internationally-focused way. She speaks fluent Dutch, English, French and Italian.
In the fields of curatorship, of editing catalogues and articles, of advice on setting up an art collection, on lectures and guided group tours to culturally and historically interesting sites and museums of the Rhineland and Westphalia, Christiane Heiser sees herself as a cicerone, a mediator between scholarship and an interested public.
Christiane Heiser can always rely on her comprehensive expertise when it comes to university-level knowledge, cultural-historical research, academic lectures and publications, as well as specialist translations from the Dutch, English and French. To her, an exact knowledge of current research and of the current debates in art and cultural history is a must. Thoroughness and efficiency is guaranteed, insuring the high quality of her work.